For fitness fanatics, the grind never stops, even for the holidays. If you've got an athlete in your life, you are more than aware that they devote countless hours to working out, training, and perfecting their body. That's why supporting their passion for fitness is the best gift for her you can get them this year!
The best fitness gifts don't have to be enormous, although large-ticket items are always going to put you in the good books. With the entire fitness industry continuing to boom all over the world, the options are endless when it comes to great gifts for her related to fitness, regardless if the receiver in question is a runner, weightlifter, crossfitter or cyclist.
If your someone who is struggling to know what to buy, fear not. We've put together an extensive list of products which are sure to help give you some great fitness gift ideas for her that may help you along your way.
Sometimes simple products make the most effective exercise equipment of all.
To start off our list, we've picked a great stocking filler! Loop bands are an often underrated piece of equipment that is great for practical exercises which can tone and train your lower body.
Lightweight, compact, discreet – these Loop Bands from RPM Power are ideal gift for her as they can be used for activation stretching, flexibility exercises and resistance training safeguard against injury by improving the strength and activation of stabilising muscles during movement.
See more information here.
Owning a Kettlebell is one fitness gift for her which will ensure you can train your entire body from the comfort of home. With our Adjustable 18KG Kettlebell, you can save space and time for those living in small spaces.
The kettlebell can be adjusted from 2kg- or 18kg Kettlebell (or anything in between) by simply add or remove plates to adjust the weight level in seconds with a simple twist of the tab.
Too complicated for you? No need to worry, we have a full range of standard Kettlebells also available here.
Powerspin is an original RPM product which is certain to provide a tough workout for even the most experienced athlete. As a great gift for her, Powerspin utilises isometric resistance to quickly engage a higher percentage of muscle fiber compared to regular isotonic free weight training, ideal for fat burning and weight loss.
Small, light and portable, Powerspin can be used as a home exerciser, in the office or as an efficient pre-sports warm up accessory.
See more information here.
Who needs an expensive masseuse when you can do the job yourself! Our PowerPulse Massage Gun range has been designed with athletic performance in mind. We designed our range for those who seek a powerful unit offering a deep-tissue massage.
This percussion massager will stimulate muscle tissue and increase blood flow throughout the various parts of the body. With 6 interchangeable heads, this massage gun is the perfect fitness gift for anyone who needs to optimize muscle recovery regularly.
To view the entire range or Massage Guns, see more here.
Spinning has become one of the most coveted forms of exercise over the last few years. Making it the perfect fitness gift for anyone looking to train their cardio regularly.
Non-impactful, progressive and challenging for all levels, owning a spin bike in your house is one way to make sure that you can work out comfortably no matter what the weather is like outside.
We have three different models of spin bikes in stock at the moment, varying in price based on the level you are seeking.
Happy with your current outdoor bike? There is no need to hit the roads this year, check out our new indoor Cycle Trainer here.
For walking, running, hiking and bodyweight exercises, weight vests are incredibly useful tools to increase the difficulty of many activities, with their diverse use making a primary reason as to why they are such a great gift for her.
The vest replaces the need to hold clunky weights while exercising and opens the door to a whole new dimension of hands-free weight training, making it hte perfect gift for her this Christmas. Simply secure the Power Vest around your chest and feel the difference in your training.
See more information here.
Unknown to many, Balance Boards offer far more to the average user than just balance training. Used by athletes, rehab centers and gyms as a form of physiotherapy, Balance Boards are a great way to develop strength and rehabilitate injuries such as Achilles heal, pulled muscles, breaks, sprains, tendinitis & more.
As a fun form of training, Balance Boards also offers users the chance to increase the difficulty of basic exercises, such as squat, plank, push up and more. So, if you know someone looking to increase their balance and strength, this is the perfect gift for her.
We have a wide range of different balance boards, so check out the full collection here.
All RPM Power Yoga mats are designed from sustainable materials, such as Bark harvested from the tree every 9-12 years to ensure they are environmentally friendly, so you can be happy you are are giving a fitness gift which is sustainable.
Each one of our Yoga Mats has been designed with alignment lines help you to focus and adjust your hands and feet to the accurate positions, and keep body in proper alignment.
View our full range here.
Bring the gym home with our broad range of Barbells & Bumper Plates available. With Barbell exercises offering foundational strength to many users, having a setup in your home gym with this equipment makes perfect for anyone looking to build muscle and strength.
A fitness gift that will certainly be noticed underneath the Christmas tree, this strength equipment will be sure to motivate both beginners and serious lifters alike to train hard. Training with Barbells is a basic requirement for some of the best and more powerful exercises, such as deadlifts, squats and presses, making this a fitness gift suitable for anyone.
For more information on our Barbells & Bumper plates, see more information here.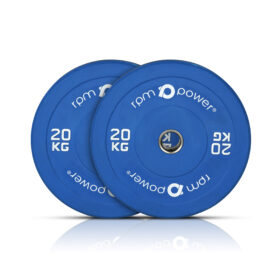 Blue - 20kg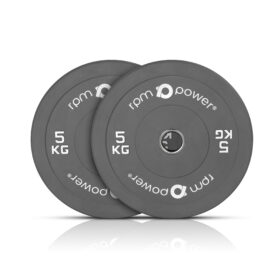 Grey – 5kg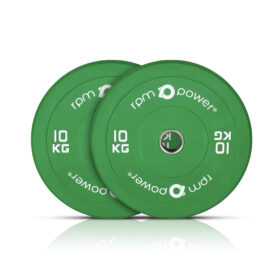 Green - 10kg
Yellow - 15kg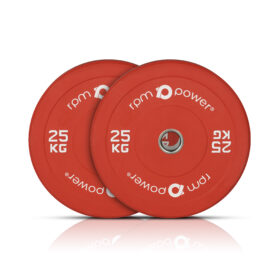 Red - 25kg
Do you know someone who wants to improve their Pull-Ups? Or alternatively, travel a lot and could benefit from having a gym in the bag. Then our Pull-Up Resistance Bands are the fitness gift for that person.
Resistance bands are versatile and compact exercisers designed for intense strengthening, mobility, & rehabilitation. Used by beginners and elite athletes alike, it's easy to vary the intensity of your workout simply by moving up or down a band level.
Most standard resistance bands packs offer high-quality bands, but weak, second-grade accessories. We've made sure that every accessory in our PowerBands Pack is built to rival our bands and withstand years of training.
See more information on our entire range of Resistance Bands here.
Commonly known as a tool for keeping kids entertained, trampoline training is an exceptionally effective way to engage in both strength and cardio training.
Combine cardio, strengthening and effective muscle building with easy and fun trampoline exercise. Actively engage over 400 muscles across the entire body for enhanced core, leg and back strength.
Bouncing on a trampoline is a high-intensity anaerobic exercise which focuses on deep-set muscles that may otherwise not be targeted by activities such as jogging, lifting weights, cycling and many more.
See more information here.
Here at RPM, we feel the best way to create value is to piece many of our products together to create offerings that allow you to save your hard earned cash.
We've created a vast range of bundles across our entire range which combine strength, cardio and endurance equipment to provide you with all the tools to give the ultimate fitness gift and #PowerYourPotential.
So if you really want to give them a complete gift this year, check out our full range of bundle deals here.
Each piece of equipment in this guide has been tried and tested by the author in real-life training. The author has several years of experience in the fitness industry and has tested and reviewed countless exercise and strength equipment. Our testers are gym addicts who have ran ultra-marathons and competed in a variety of fitness competitions.
Got any more questions? Feel free to contact us at anytime using some of the links below.