---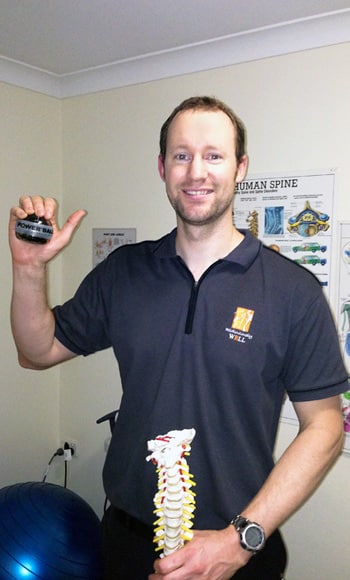 ACHES, PAINS AND 'CLICKING' IN THE WRIST? PROBLEM SOLVED.
"I'm a Musculoskeletal Physiotherapist who also enjoys rock climbing. 7 years ago I fractured my distal radius, as well as damaging the TFCC of my right wrist. After doing some basic rehab on myself, I was able to continue working but experienced regular aching, pain and clicking in my right wrist.
Then I tried Powerball®. After the first week, I noticed definite improvement in how my injured wrist felt and now use it to maintain strength and range-of-motion of both of my wrists and hands. As a physiotherapist, I can appreciate the way Powerball® helps my hand strength and endurance and targets imbalances I have developed in my forearm muscles from working and climbing – the fact that I can exercise these with no compression through my wrists is massively beneficial."
Brett Winks, Gold Coast, Australia.
See how Powerball is used for strengthening in Rock climbing here. Powerball has long associated with wrist strengthening and grip strength, whether that is for rehab or for general strength and endurance gains.
---
---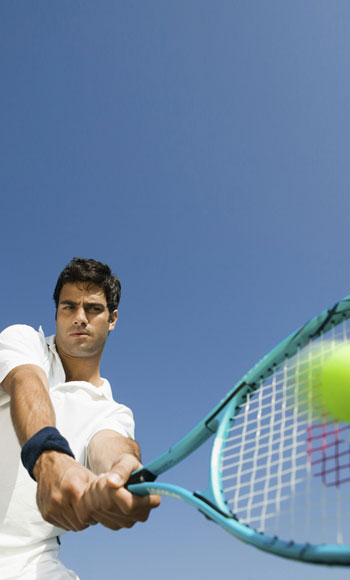 ARM & WRIST STRENGTHENING

You will notice a
difference in days.

"The repetitive movements of tennis regularly result in wrist, elbow and shoulder strains. 3 years ago one of our players began using a Powerball to help rehabilitate a wrist injury. I was highly sceptical about what this spinning ball could do and so was well surprised when it helped greatly speed their recovery. Since then we've been using Powerball for both rehabilitation and strengthening of our player's arms and wrists.

It takes a little practice to get the movement right but once you perfect the technique and follow a simple programme you will definitely notice a positive difference in days."

Frans Beckengret, Head Coach, Rutgers Tennis Academy

Powerball is used by Tennis Professionals as a strengthening and Rehab aid. See our Tennis strength training page or our arm rehab page.
---
---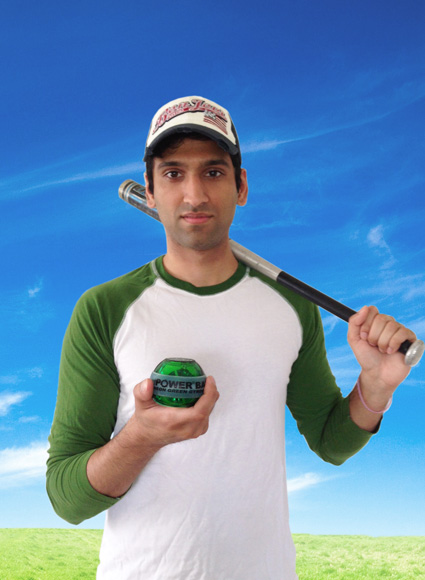 ULNAR / RADIUS BROKEN IN HALF?
PROBLEM SOLVED.
"I was playing baseball for my college team in Jersey when my arm was literally broken in half. I was escorted to the hospital and doctors patched me up, advising I would have to undergo therapy. In therapy there were the usual massages and exercises, but there was also one psychical therapist who had a slightly different approach. She handed me a green Powerball® and instructed on how to use it.
There were 3 other patients in therapy with similar injuries to mine that day and I'd say I probably healed 50% quicker. That green Powerball® literally gave me my arm back, one of the greatest inventions I've ever invested in. Thank you."
Jay Kshatriya, New Jersey, USA
We are delighted that physiotherapists recommend Powerball products to aid recovery times. Whether it is your Fingers,  Wrist, Elbow, Forearm or Shoulder Powerball will get you back in the game quicker.
---
---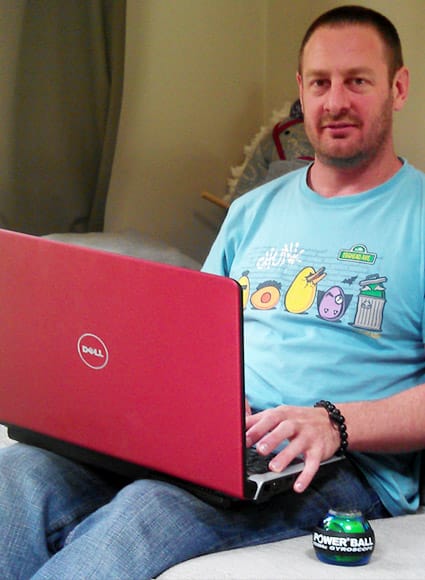 TENNIS ELBOW FROM OVER-USE OF A LAPTOP?
PROBLEM SOLVED

"I got tennis elbow from constantly using my laptop and it was a major issue. It got so bad, I couldn't lift a glass of water using my right arm, my elbow would just give way. I started some exercise to help strengthen and rebuild but it was hard going, causing me more injury at times.

I got really fed up with the pain and having a useless arm, especially since I am right handed, so I went searching online for something better and discovered Powerball®. I used it regularly and it really has given strength back and reduced my pain considerably, a fantastic outcome. It's all taken only a few weeks so it's a great result as I suffered for months before this."

Michael Cutler, Bristol, UK

Powerball has physio designed Tennis Elbow exercises that sooth and strengthen your muscles relieving pain.
---
---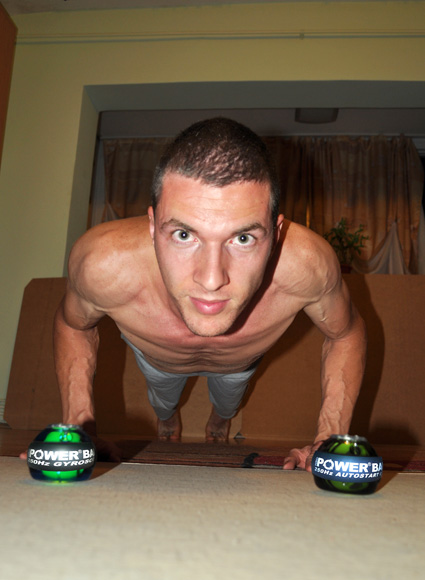 SEVERE CARPAL TUNNEL SYNDROME?
PROBLEM SOLVED.

"When I was 24, I started feeling an acute pain in my right wrist especially when I tried to exercise. My doctor told me I had Carpal Tunnel Syndrome and would need surgery.

I started looking for other forms of exercise that could help with my problem and purchased a Powerball®. After a few months of use, the numbness in my fingers decreased a lot. It's now been 3 years since I'm using Powerball® and the numbness has disappeared. I recently started climbing and can feel a huge difference – before Powerball® I couldn't open a bottle of soda with my right hand and now I climb on the wall almost without problems, thank you guys!"

Razvan Turcase, Timis, Romania

Powerballs Carpal Tunnel Syndrome treatment is the antidote is the antidote to this injury that is becoming more commonplace due to the repetitive tasks we undertake everyday.
---
---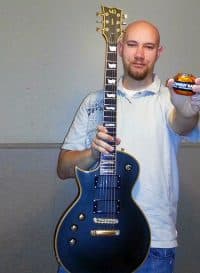 NUMB HANDS OR CTS FROM GUITAR PLAYING?
PROBLEM SOLVED.

"I have been playing guitar since I was 15 but had to stop due to my hand going numb. I searched the internet for a solution and tried many different things but the numbness kept coming back. I started talking to a friend and he advised I should buy Powerball®.

I did and started using it immediately. From the very first use, I felt less numbness in my hands. After three days use however, the numbness was COMPLETELY gone. Not only am I playing guitar again, but I am also learning piano now as well. None of this would be possible if I didn't have Powerball®. It is truly an amazing device and I cannot express how thankful I am to have bought one."

Wes Hinds, Oklahoma, USA

Whether it is hand numbness treatment or strengthening for guitarists to improve there stamina and prevent injuries Powerball has got you covered.
---
---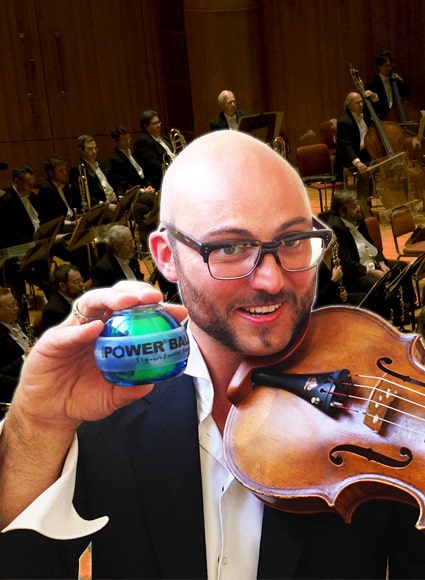 RSI PREVENTING YOU FROM PLAYING MUSIC?
PROBLEM SOLVED.

"I am a professional musician in a symphony orchestra in Glasgow, Scotland and experienced RSI problems down the front and back of my left forearm as a result of playing viola for a living. My arm and wrist were constantly throbbing from the moment I woke up in the morning.

I tried many different remedies for my problems; massages, acupuncture, ibuprofen cooling gel, stretches. Nothing helped. Then I saw Powerball® advertised online. Within 48hrs of its arrival, my problems were already getting noticeably better. After a just week the RSI had disappeared entirely. This was after a solid 8 months of problems. You can imagine how much this means to me, thank you so much!"

Rik Evans, Glasgow, Scotland

Musicians professional and amateur trust Powerball to keep them healthy and recover from repetitive strain injuries they pick up from play.
---
---