We aim to dispatch all orders Monday to Friday (except public and national holidays) within 24 hours.
Larger products, such as rowing machines, exercise bikes and heavy dumbbells are delivered via tracked courier. Products weighing over 45kg are delivered on pallets. 
Please read our full shipping terms and conditions here. 
Country/Region
Estimated Delivery Times
Republic of Ireland & Northern Ireland

Courier Tracked 1-3 business days |

Courier Tracked (Pallet) 2-5 business days

U.K.

Please note: Many of our orders are shipped directly from our storehouse in the U.K. In the case where a product must be shipped from our headquarters in Ireland, shipping times are as follows:

Standard Post 4-12 working days |

Courier Tracked 2-5 Business Days

*All taxes and custom charges are covered by RPM Power

®

Europe

Tracked courier 2-5 business days

For full details on shipping please see here.

U.S.A.

Standard Post 4-12 business days (USPS) |

Premium Courier Tracked 2-5 business days  

Canada

Please note: 60% of our orders are shipped directly from our storehouse in Canada. In the case where a product must be shipped from our headquarters in Ireland, shipping times are as follows:

Standard Post 12-16 business days |

Express Post (Tracked) 4-7 business days

Central America

Standard Post 12-15 business days |

Tracked Courier 4-8 business days

Australia & New Zealand

Tracked Courier 4-7 days

Asia & Middle East

Tracked Courier 2-6 business days

South America

Registered Post (tracked) 9-11 business days |

Courier Tracked (Pending availability) 2-6 business days

Africa

Registered Post (tracked) 9-11 business days
The above shipping times have been calculated based on previous deliveries, are approximate and should not be taken as a guarantee of delivery within a specified time-frame. 
All Powerball® Gyroscope's are covered by a 1 year guarantee.
Please note: exhausted batteries or damage caused to the LCD display are not included.
The guarantee period commences when the item has been delivered to the purchaser or user.
What is covered during the guarantee period?
✔ Malfunction defects that are a direct result of a manufacturing issue(s)
✔ Spare parts free of charge provided the purchaser can provide sufficient, timely evidence of missing/defective parts
✔ Products purchased directly through the RPM Power® website
RPM Power® reserves the right to determine what constitutes manufacturing defects as well as wear and tear.
A guarantee does not cover products for commercial use and is non-transferable to a third party.
For full terms and conditions of RPM Power® warranty and guarantee information please see here.
Powerball Hybrid Autostart Pro
A new breed of Powerball
Powerball Hybrid Pro is a new take on the standard gyroscope model. Equipped with a heavyweight, solid zinc rotor, Hybrid features the resistant shell of a 280Hz Powerball, but offers all the power of a Metal Series model. It is the size of a tennis ball, yet can spin at up to 22,000 RPM (rotations per minute) in your hand. Give Powerball as a spin - we guarantee you've never felt anything like it. Every Hybrid purchased from our website comes with a free Carry Case, which has been specially designed for our Powerballs. Sleek black with an aqua-blue zip, the Carry Case ensures that your Hybrid remains safe and scratch-free when not in use.
Product Highlights
Heavyweight zinc rotor
Automatic starting
LCD speed counter
Generates up to 27 kg in resistance
Spins at up to 22,000rpm
Polycarbonate shell
No batteries, no cords
For intense strengthening
Includes FREE Powerball Carry Case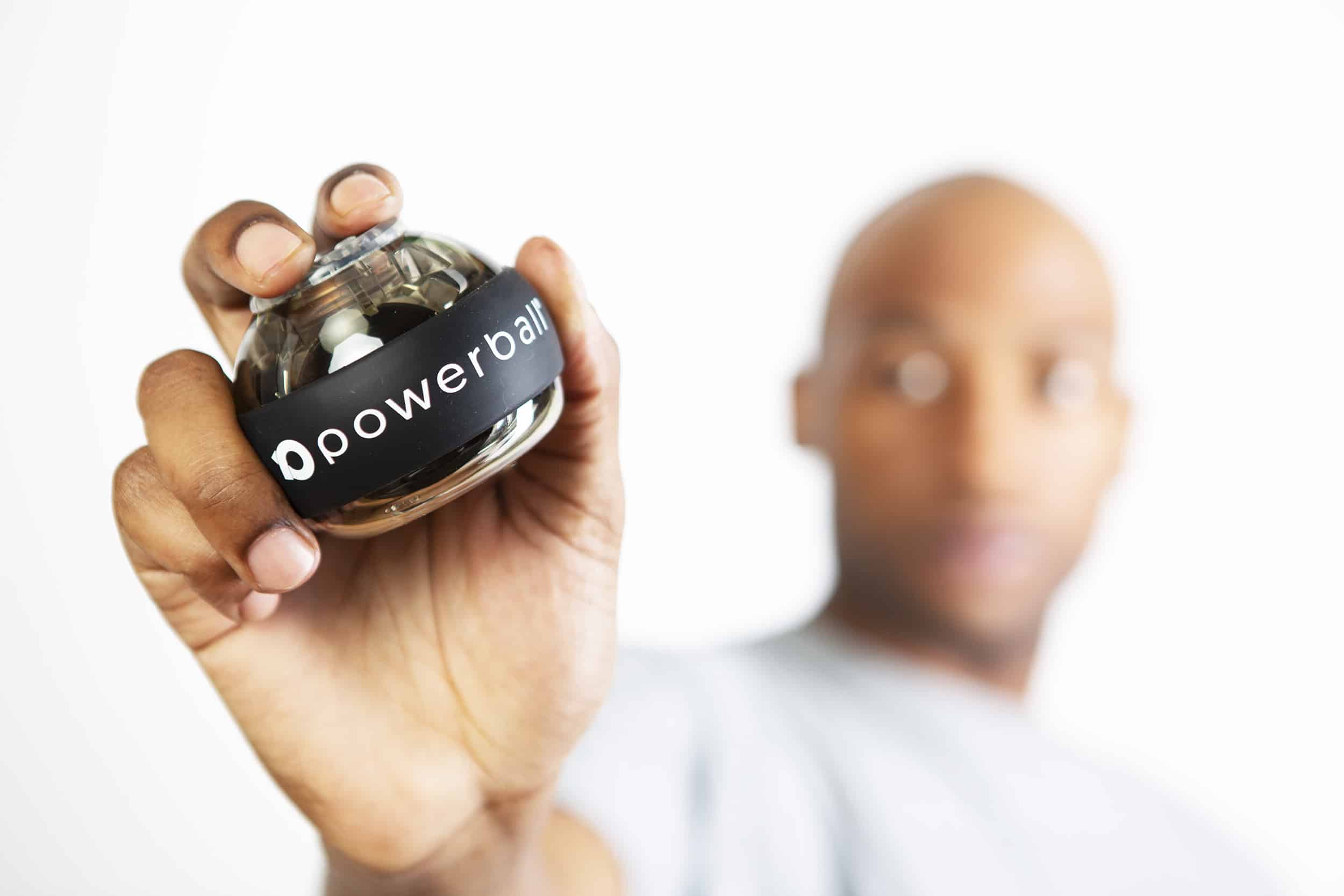 Build Grip & Arm Power
As you spin Powerball it generates resistance - the faster you spin, the stronger the resistance will be. Harness the immense power of Hybrid Pro at fast speeds to build solid upper arm muscles, a stronger wrist and the ultimate grip.
Strength Training With No Risks
The resistance Powerball generates is called 'isometric resistance'. Isometric resistance engages a much higher percentage of muscle fibres than standard isotonic training (e.g. free weights) does. It is also non-impact, making it a form of strengthening that places ZERO strain on your muscles as you exercise. It's weight training with none of the injury risk.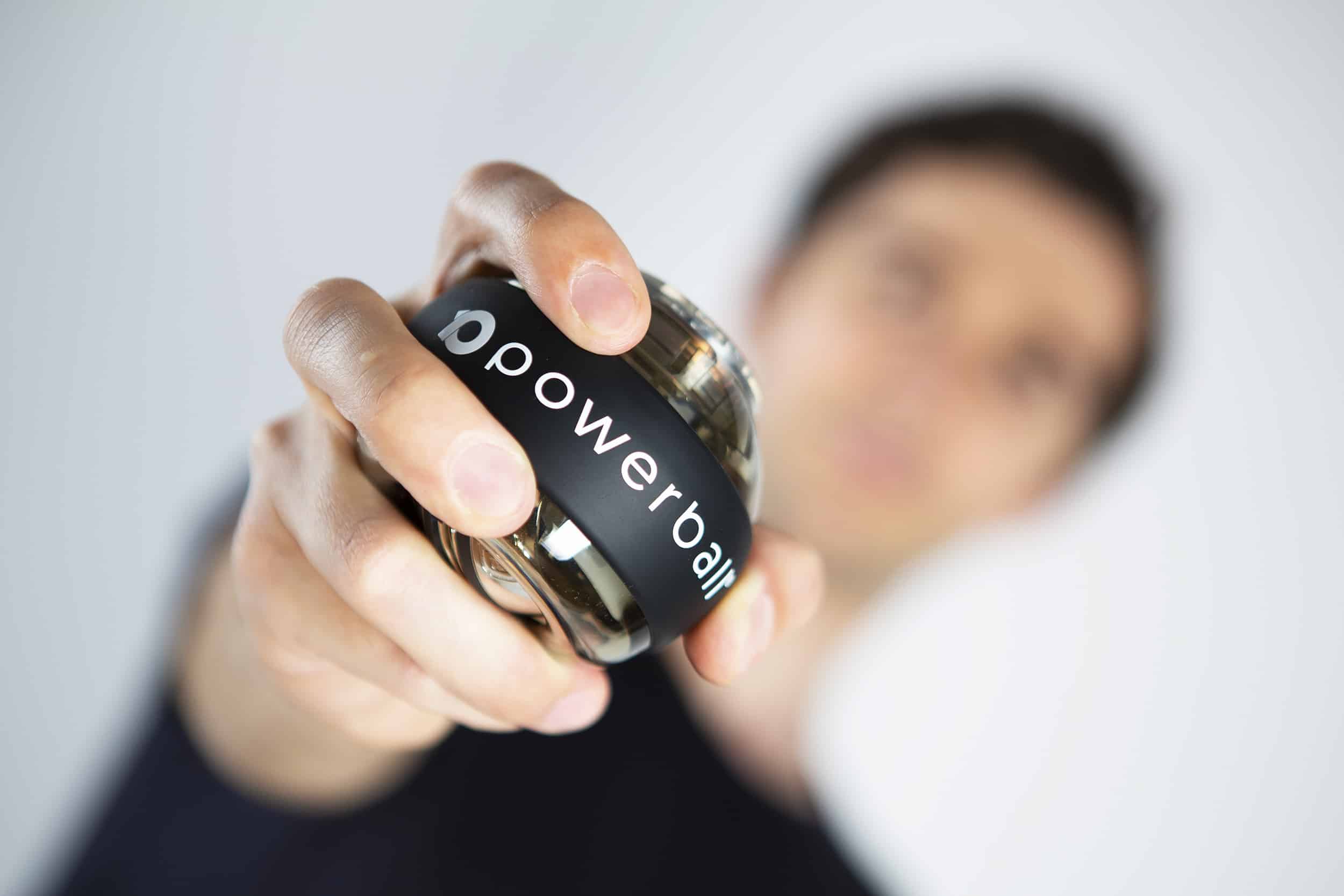 LCD Speed Counter
Hybrid Pro is fitted with a 4-mode Acura 2.0 LCD speed counter for easily monitoring your strengthening progress. Get an exact reading on your spin speeds every time - the counter also saves your highest spin speed for 24 hours. No battery required, the speed counter is powered solely by the magnetic inertia of the spinning rotor!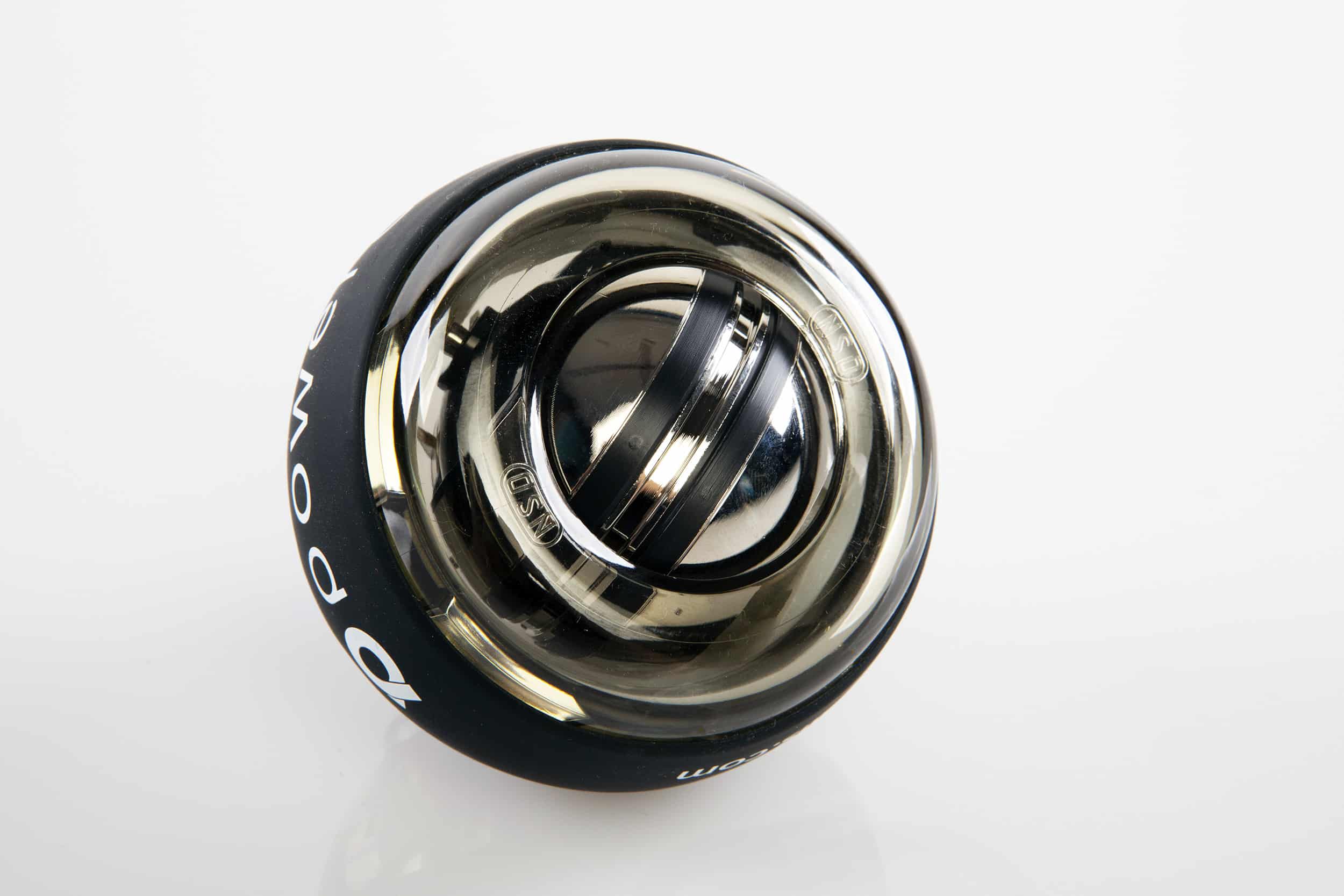 Enhanced Sport & Music Ability
An effective exercise tool that will dramatically improve grip strength and finger dexterity, Powerball is a great product for all serious athletes (golf, tennis, climbing, boxing, etc.) and musicians (guitar, drums, piano). Grip harder, move faster, play longer with Powerball.