Pain from playing Guitar?
Play Longer > Play Harder > Play Healthier
Guitar play can cause repetitive strain injuries (RSI) anywhere in the upper limbs but is most common in the wrist. Powerball is body armor for your wrists and upper arms. Used by climbers to build wrist and grip strength it is a revolutionary world class rehabilitation tool from repetitive strain injuries.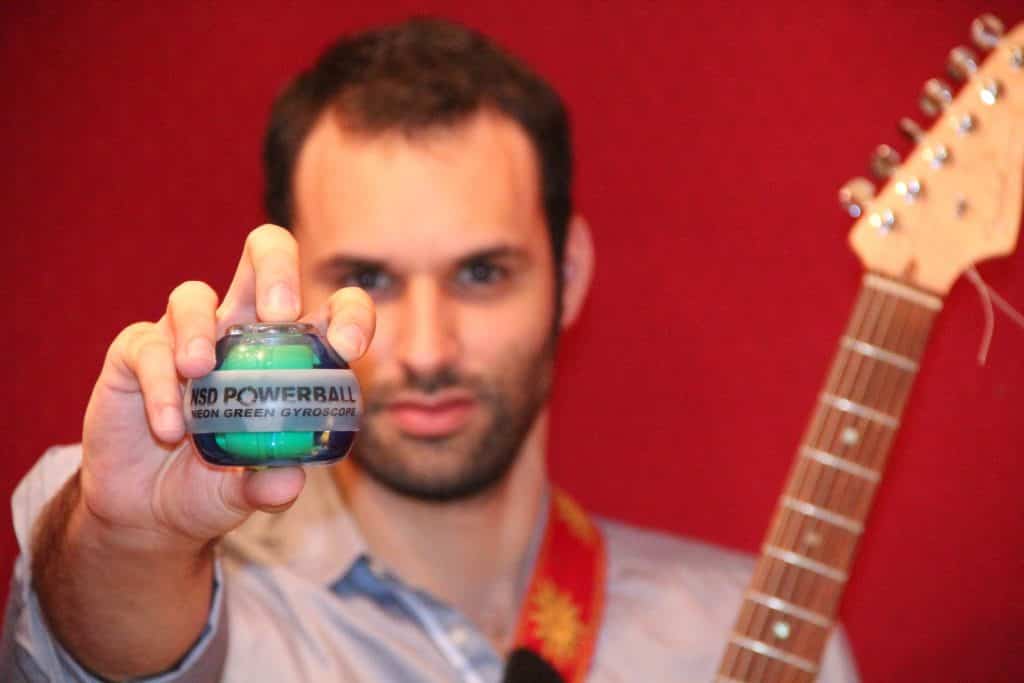 Why is there wrist pain from Guitar play?
Guitar can be a pain – carpal tunnel and related repetitive strain injuries (RSI) from playing can be a common occurrence. The repetitive movements associated with guitar play cause damage and tearing to muscles and tendons. These pains can range form the mild up to seriously debilitating which can stop your guitar play completely.
Stop 'Guitar Wrist'
'
Guitar Wrist'
and
repetitive strain injuries
or
carpal tunnel
from guitar playing can strike both professional and amateur guitar players alike. The strain that wrists, fingers and upper limbs are under from guitar playing can take it's toll. This pain should not be ignored as it can develop into more serious problems that can stop people from playing altogether. Feeling hot, cold, tingling or needles can be the first sign of nerve damage that needs to be treated. Building muscle strength around the ligaments and tendons that support the wrists, fingers and elbows is the best way to prevent guitar based RSI's.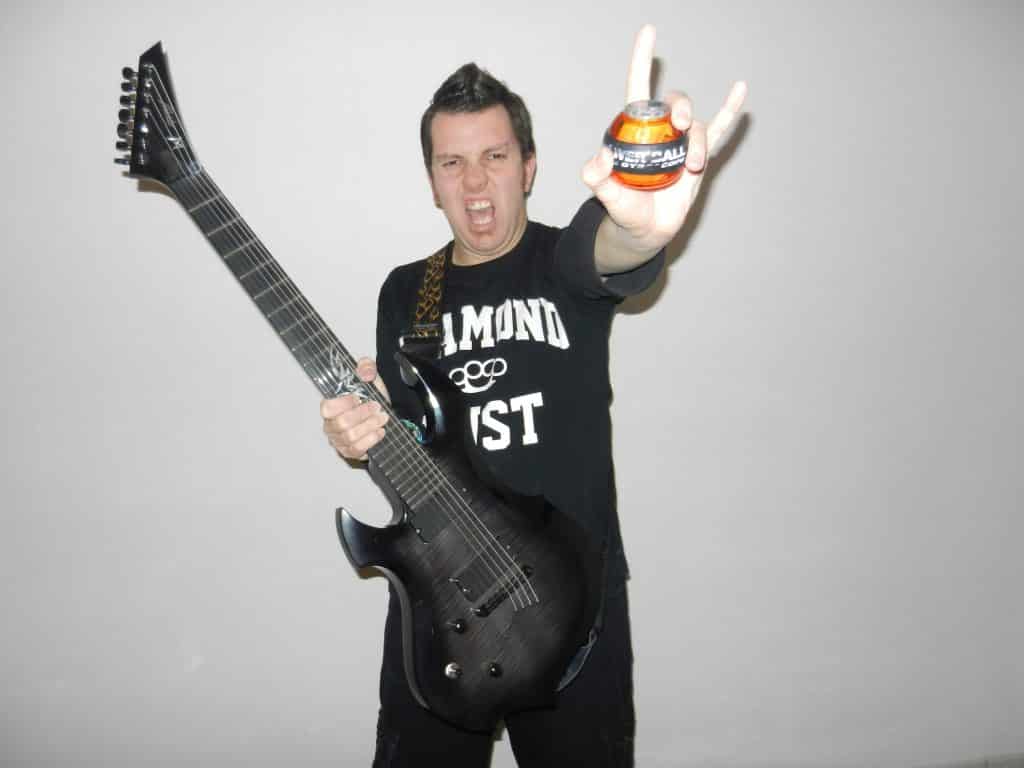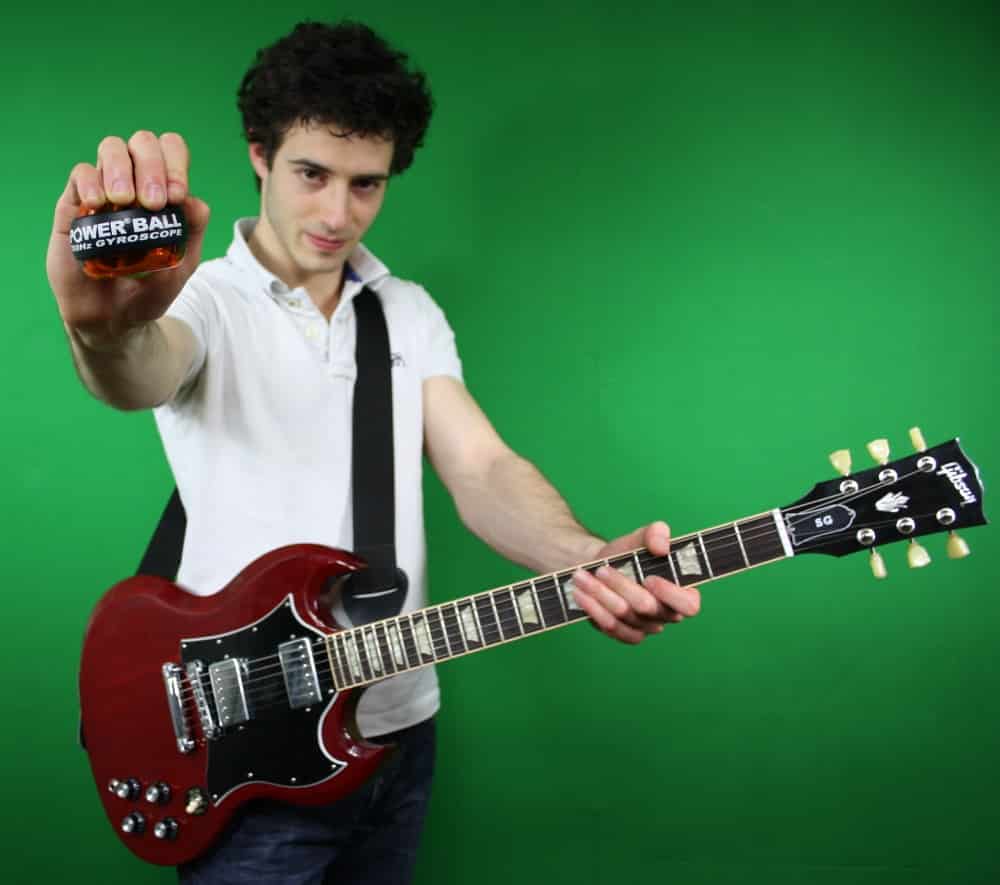 How Powerball Works relieves Repetitive strain injury from Guitar play?
Powerball creates Isometric exercise which is uniquely suited to rehabilitation. Similar to the way the earth rotates on an axis the Powerball has a rotor inside it which spins creating resistance against the user as they turn their wrists. This type of exercise is non-impact so it can be as gentle as you like for rehabilitation. However, it can be high impact up to and incredible 60 + pounds of force when used for strength building when healthy.
Strength & Flexibility
The Isometric resistance Powerball generates strengthens muscles and builds endurance like no other exercise product. Powerball stimulates blood flow and promotes the production of synovial fluid in the wrist and elbow joints, both of which help to greatly reduce the occurrence of inflammation in the surrounding tissue. Powerball both prevents and cures RSI. Powerball is perfect for warming up and down after a long session, however, if it is used for as little as 3 mins daily you will notice an immediate difference in strength and pain relief.

Guitar Wrist pain – Repair & Strengthen
Guitar players have been using Powerball for decades. It is a rehabilitation device and a strengthening product combined. Strengthening damaged muscles and tendons is a key element in your recovery. You will recover from RSI from guitar play, however, another benefit is that your will also increase your strength and endurance as a result also.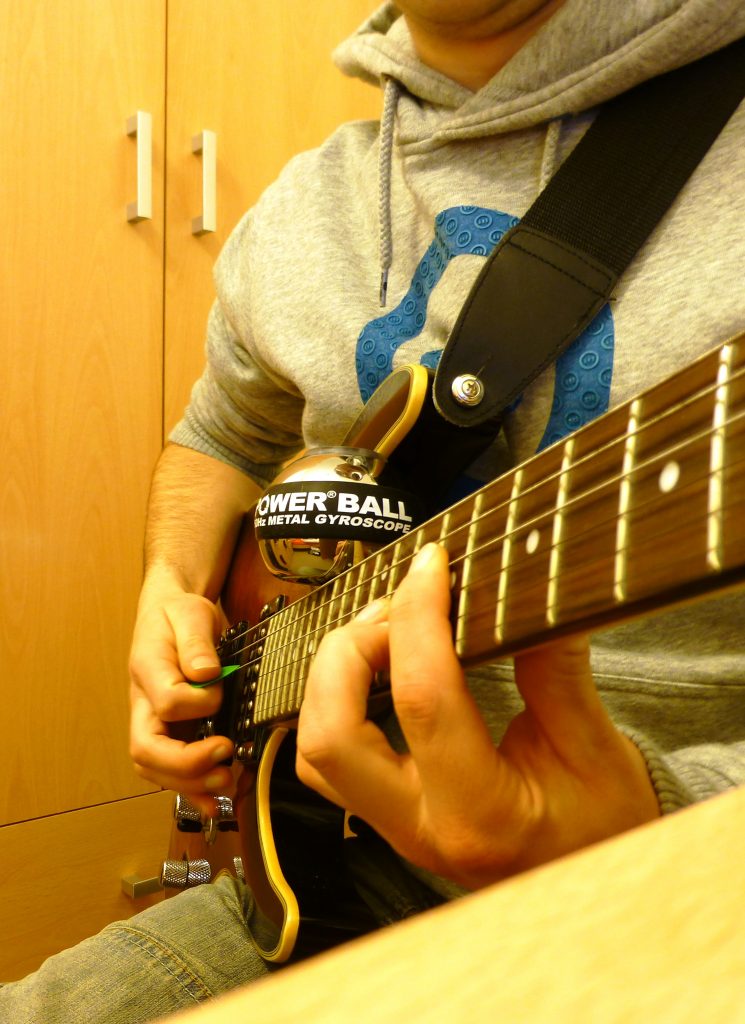 Physio designed Rehabilitation programmes & videos
Using Powerball for
as little as 3 minutes
daily will help you to pick and strum with greater alacrity; relieve pain; guard against inflammation and allow you to play for longer. A suite of physio designed exercise videos and programmes are also available for direct treatment and strengthening of the fingers, wrist, and arm (please see related videos on this page or a full list above in
videos tab
).
Treat RSI's from Guitar play with Powerball
Testimonials
Musicians should know about how great this thing works to strengthen your fingers. As a guitar player, grip and finger strength is very important if you want to play the blues like the late Stevie Ray Vaughan and Powerball definitely, helps you achieve that"
Ivan Baker,
Buenos Aires, Argentina
My PowerBall has increased strength in my fingers and wrist so that I can play guitar for hours without fatigue! I use it every day.
James Graves,
Tennessee, United States
"I'm a serious Powerballer and train to push my limits, I want to use this opportunity to express my thanks on how much Powerballing has improved my guitar playing, control, and endurance!"
Hentie Van Loggerenberg,
Pretoria, South Africa