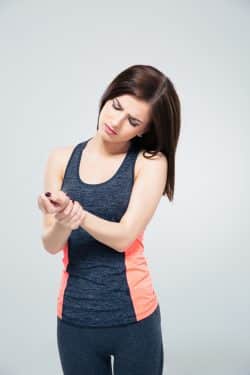 YOU WILL NOTICE THE DIFFERENCE IN DAYS
'My hand used to always cramp after I returned to knitting after a few years, it had got so bad I nearly gave up. I have been using Powerball daily for a week and the pain has gone.'
'I bought it because age and wearing joints mean that I was losing the ability to grip with my right hand. A week after using the Powerball my grip is improving and the usual joint aches and pains of age have virtually gone so it has already served its purpose. As an exercise tool for wrists and arms, it seems to do everything it claims.'
'Unbelievable little thing and easy to use, I would highly recommend it, bring it to work with you and use it a few times a day, I used it for about a week back in June and a pain I had in my wrist for 2 years went.'
'The RSI killer, Purchased the Powerball to help me with my RSI – which it is doing no end! Recommended to me by a physio no less'
Voted by the Independent newspaper as the 'Best Desk Exerciser', Read Review Here.

TENDINITIS IN THE HAND PREVENTING YOUR WORK?
PROBLEM SOLVED.
I'm 49 years old and work in a dialysis clinic where I must make a lot of accurate wrist movements from left to right and right to left many times daily. 7 years ago, I developed severe tendinitis and a cyst in my right hand.
I had surgery to remove the cyst but couldn't cure the tendinitis. I went to a lot of doctors for rehabilitation but none of them could help me to get back to work. Then my son told me about Powerball® and I couldn't let go of this little ball. It took me just 4 weeks of using Powerball® to get better and return to work. I've been using Powerball® from that day and haven't had tendinitis again. Thanks for giving me my wrist back.
Jorge Rizzetto, Buenos Aires, Argentina.
POWERBALL® RESTORED MY CAREER.
In my case Powerball has restored my career.
I'm a tattoo artist and have been doing that for 10 years. The continuous vibration, weight of the machines and awkward angles has over the years put a lot of strain on my wrist and hands. With a growing business, I was working longer hours to the extent where I could barely use my working hand. I couldn't open jars, could barely lift my machines or make a complete fist. I picked up a powerball and just used it for 10 minutes a day, finding it therapeutic and almost like a meditation. After only 3 days I was back at work and am amazed and grateful at the success and efficiency of this device.
Gemma Pallat
Rockdale, NSW
Australia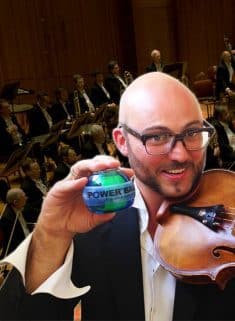 RSI PREVENTING YOU FROM PLAYING MUSIC?
PROBLEM SOLVED.
I am a professional musician in a symphony orchestra in Glasgow, Scotland and experienced RSI problems down the front and back of my left forearm as a result of playing viola for a living. My arm and wrist were constantly throbbing from the moment I woke up in the morning.
I tried many different remedies for my problems; massages, acupuncture, ibuprofen cooling gel, stretches. Nothing helped. Then I saw Powerball® advertised online. Within 48hrs of its arrival, my problems were already getting noticeably better. After a just week the RSI had disappeared entirely. This was after a solid 8 months of problems. You can imagine how much this means to me, thank you so much!
Rik Evans, Glasgow, Scotland
TENNIS ELBOW FROM OVER-USE OF A LAPTOP?
PROBLEM SOLVED
I got tennis elbow from constantly using my laptop and it was a major issue. It got so bad, I couldn't lift a glass of water using my right arm, my elbow would just give way. I started some exercise to help strengthen and rebuild but it was hard going, causing me more injury at times.
I got really fed up with the pain and having a useless arm, especially since I am right handed, so I went searching online for something better and discovered Powerball®. I used it regularly and it really has given strength back and reduced my pain considerably, a fantastic outcome. It's all taken only a few weeks so it's a great result as I suffered for months before this.
Michael Cutler, Bristol, UK